From the Editor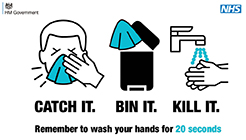 Watching the government coronavirus briefing the other evening the phrase, 'the darkest hour is just before the dawn' could not have resonated more. The loss of life continued to climb and reach shocking levels. Every community across the UK has been impacted. There cannot have been more evidence needed that all the restrictions and isolation that people are being asked to endure is necessary to not over burden the NHS and save lives.
But there is a glimmer of hope that these measures are having a positive impact. There has been a more recent trend in the statistics we see every day that the curve is flattening or even heading downwards. That gives hope that within a few more weeks we might have seen the worst this virus can throw at us but also raises thoughts of what will the new dawn be like? It is rare that we have the chance to re-set our lives but there will be those opportunities shortly. The news headlines have been dominated by bad news but there are plenty of human stories and the galvanising of support groups within communities who are making sure that the most vulnerable and isolated have someone to call upon to help them through these difficult times. Our lead story is how the people of Oundle have risen to the challenge in their town.
Staying as well as possible during lockdown means finding ways to boost your mental and physical health; we have been trying to include tips and recipes in Nene Valley News to help you achieve this but Nicole Sumner, from Higham Ferrers, has teamed up with Rushden MIND and is posting weekly videos on YouTube to help people maintain a positive outlook during the pandemic. Nicole's story is on page 8.
There are some practical tips too if you have not driven your car for a while of how to make sure it is 'moth-balled' safely and ready for you to venture out once more when restrictions begin to be lifted. Meanwhile, stay safe and well.
To download our latest issue free see https://nenevalleynews.co.uk/e-version/