Oundle's streets set for Vintage Festival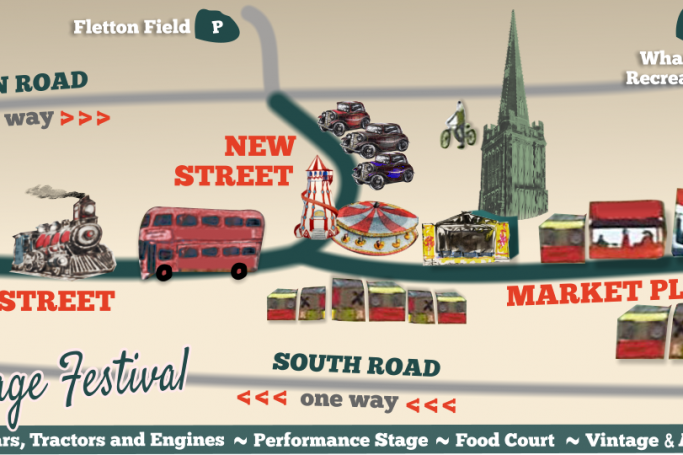 In a first of its kind for the town, Oundle Vintage Festival organisers are confident of providing a festival to remember on Saturday 18th May.  With a long list of vintage themed attractions and displays, the 'free to enter' one-day event promises to have something for everyone.  Oundle is bracing itself for a whirlwind of vintage excitement and much interest from fans of yesteryear, many of whom will be heading for the town to enjoy a great day out wearing their finest vintage outfits.  With 3 of the main central streets closed off for the day, the usual trundle of passing traffic will be replaced by displays of fired up steam engines, vintage tractors, classic cars, vintage busses, historical exhibitions, classic bicycles, a mini-railway with ride-on scale model trains, an antiques & vintage goods market, and a sizable 'old style' fairground, including a 50ft high helter-skelter.  In addition, there will be an opportunity to take a trip up to the highest church steeple in Northamptonshire with half-hourly guided tours of St Peter's Church tower.  Later in the day children will be invited to hand over their teddy bears to see them launched from the tower on parachutes.  The event is in fact a fund-raiser, organised by Oundle Business Association, and aims to provide a 5-figure sum to help fix the broken Town Clock and bells within St Peter's church.
In addition to the varied displays and goings on dispersed about the town, festival goers will be able to head to the Festival Stage located in the Market Place where live acts will entertain throughout the day with vintage inspired sights and sounds. These include: the Katie Turner Trio featuring "Harmonica" Dave Turner, Five String Thing, HMS Welland "Sea Chants", the Weekenders, Rock-a-Billy Guido, the G&S Players, and popular local band the Feastie Boys.  The performance area will be surrounded by an artisan food court and of course the wonderful range of local shops will be open to provide sustenance and other tempting items.
The Festival starts at 10am and runs 'til 4pm; car parking at the Wharf Field and Fletton Field (weather permitting) from 9am will also be free.  There will be a one-way system in operation on Milton Road and South Road from 6am to 6pm.   For more details of all the activities, arrangements and news head to www.oundlevintagefestival.co.uk